Zabbix 3.4.1 is now available, featuring minor improvements and bug fixes.

Download packages for CentOS, Debian (incl. Stretch), Oracle Linux, RHEL & Ubuntu along with the appliance files.

Preprocess collected data in an efficient way, customize your dashboard, be notified on problem acknowledgement, use templates to monitor switches and routers and let Zabbix check your code! Find what Zabbix 3.4 can do for your IT infrastructure!

In case you've missed What's New in 3.4 webinars, then mark September 12 in your calendars and join the 1-hour webinars in multiple languages!

We have enabled Zabbix Agent support for active monitoring of platforms running IBM AIX.

We try to translate Zabbix documentation in as many languages as possible, with Zabbix 3.4 already available in English, Russian, Portuguese, and in the world's most spoken language – Chinese!

Zabbix Share is a mix of Zabbix add-ons, templates and modules created by our community. Experiment with your Zabbix!

Explore the latest listings: templates for monitoring PostgreSQL, Docker, Lexmark and Ricoh printers, HP Enterprise switches as well as Intel and Mellanox InfiniBand devices.
One Week until Zabbix Conference 2017!
The wait is almost over! Next Friday, the 2-day agenda will start at the one of the largest premises in the Baltic States – Radisson Blu Hotel Latvija. 28 presentations, workshops run by Zabbix experts, quick-witted Lightning Talks, interactive games and surprises!
Let us meet at the Welcome Party!
On September 14, right after your arrival, we will take you to the Zabbix Fairground at the LIDO Leisure Center. Take part in contests, taste Latvian traditional food+beer and win prizes! And while we keep fingers crossed for a sunny weather, take a rain coat with you, just in case.

Zabbix Team will meet you at ~18:15 at the Radisson Blu Hotel Latvija to get you to the Fairground. In case you plan to arrive later, please see the map with directions on how to get to the LIDO.

Note that you have to be registered for Full Conference, Fan or Speaker packages to take part in this event.
Continuing introducing our honored speakers, we are publishing their interviews on Zabbix blog.
| | | |
| --- | --- | --- |
| | | Serg Mescheryakov, Professor of St. Petersburg Polytechnic University: "I'm glad to present new results and ideas, because they're swiftly accepted and implemented by Zabbix." |
| | | Xavier Schneider, Accountable Manager at Natixis: "In banking we need surgical precision and Zabbix gives us confidence in potential of our architecture." |
| | | Steven Bush, Software Development Manager at SAS Solutions OnDemand: "Dynamic and flexible nature of Zabbix is essential for modern SaaS monitoring." |

GITEX (October 8-12)

GITEX is the third largest technology event in the world, welcoming multiple IT specialists and entrepreneurs from 35+ countries in Dubai to share their achievements and ideas in different fields.

For almost a week, Zabbix Team will advance partnership and expand reach of Zabbix services in the Middle East.

SMAU Milano (October 24-26)

SMAU is the main Italian fair dedicated to Information & Communications Technology, with more than 30 000 participants.

We welcome you at the Zabbix stand, where you will ask questions to Zabbix Team, watch live demos and listen to workshops, presented in Italian by our Premium Partner – Quadrata.
Expanding Zabbix Services Worldwide
Welcome an integrated solutions provider, SGIT, becoming Zabbix Reseller and ensuring solid monitoring tool for their customers in Argentina.

We're always happy to ensure the growth of Zabbix Partner network in our home country Latvia. One of the leading IT companies providing safe and innovative IT solutions, BIT, will now be able to enhance its extensive knowledge and existing services with Zabbix.






Grow with Zabbix Training
Use an opportunity to learn from our specialists and grow professionally. During the Zabbix Training you will learn how to get the most out of functionality, deal with some tricky scenarios and monitor you infrastructure efficiently.
Apply for a course near you by visiting our Training Schedule. Join the upcoming training sessions in many languages worldwide:
✔

Rio de Janeiro, Brazil

September 11-15

Language: Portuguese

✔

Riga, Latvia

September 18-22

Language: English

✔

Montreal, Canada

September 25-29

Language: English

✔

Maidenhead, UK

September 25-29

Language: English

✔

Nossegem, Belgium

September 25-29

Language: English

✔

Bologna, Italy

September 25-29

Language: Italian

✔

Turin, Italy

October 2-6

Language: Italian

✔

Paris, France

October 2-6

Language: French

✔

Bielefeld, Germany

October 9-13

Language: German

✔

Moscow, Russia

October 9-13

Language: Russian

✔

Lima, Peru

October 23-27

Language: Spanish

In this Issue

Training Schedule

Training Brochure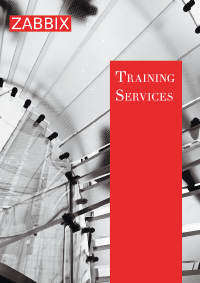 Books on Zabbix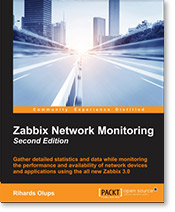 Follow Us