Zabbix 3.0.16 and 3.4.8 released. Download together with packages (RPM, DEB) and ready to use appliance files.

Zabbix Forum has recently got a fresh look, introducing mobile compatibility, mnemonic URLs, avatars, private messaging and a chance to like your favorite posts. Check this out, you'll love it!

Don't miss free Zabbix Webinars and discover the best practices on Zabbix. Join sessions in April:

✔ Full-stack monitoring in DevOps environment – in Chinese
✔ Rozwiązanie monitorujące Zabbix - przegląd – in Polish
✔ Zabbix, panoramica di sistema – in Italian
✔ Overzicht & enkele praktische voorbeelden – in Dutch
GARTNER INSIGHTS: ZABBIX VS NAGIOS
| | | | |
| --- | --- | --- | --- |
| | | Check out a professional IT Infrastructure Monitoring Tools analysis by Gartner, comparing Zabbix capabilities with the top competitors. | |
ZABBIX SUMMIT 2018 (October 5-6)

Attend, exhibit and speak out at Zabbix Summit 2018 – the biggest Zabbix event exclusively about monitoring! Share your projects and experience revolving around Zabbix – submit your topic.

Enjoy the Early Bird prices while you can!

ZabConf LatAm 2018 (April 26-28)

Zabbix Conference LatAm is approaching! Join experts and community coming from the whole Latin America to Porto Alegre, Brazil!
Red Hat Summit (May 8-10)

In less than a month, let's talk about the true power of Open Source and red color together with Zabbix at Red Hat Summit 2018 in San Francisco, CA.

Open Source Day (May 23)

Meet Zabbix in Warsaw at Open Source Day, where Alexei Vladishev, Zabbix CEO, will run a 2-hour workshop on the upcoming Zabbix 4.0.
Imagunet, Zabbix Reseller from Colombia:
"Due to adaptability of Zabbix we can have both business and operational KPIs centralized as well as monitoring, correlation and prediction of events in complex scenarios"

OpenSolutions Elite Consulting, Zabbix Certified Partner from Spain:
"Only Zabbix solution was able to provide us agility, scalability and DevOps-friendliness we were looking for"






ZABBIX TRAINING
Here's the fastest way to master Zabbix – learn it on the spot and with the top experts. Zabbix Professional Training will guarantee you'll know Zabbix from Z to X.
Get Zabbix Certified all around the globe: Australia, China, USA, Brazil, Russia and Europe!
✔

Beijing, China

April 16-20

Language: English

✔

Moscow, Russia

April 23-27

Language: Russian

✔

Melbourne, Australia

May 7-11

Language: English

✔

Riga, Latvia

May 14-18

Language: English

✔

Orlando, FL, USA

May 14-18

Language: English

✔

Munich, Germany

May 14-18

Language: German

✔

Pontevedra, Spain

May 21-25

Language: Spanish

✔

Bologna, Italy

May 21-25

Language: Italian

✔

Fortaleza, Brazil

May 21-25

Language: Portuguese

In this Issue

Training Schedule

Training Brochure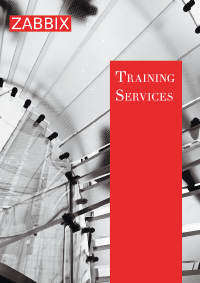 Books on Zabbix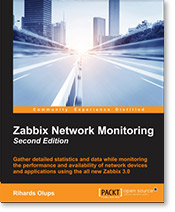 Follow Us