| | | | |
| --- | --- | --- | --- |
| | | Zabbix 3.0.17rc1 and 3.4.9rc1 are ready for download and testing. | |
| | | Aerospace, banking and finance, retail, mass production and more. Zabbix is part of all industries! Discover how to monitor all kinds of IT infrastructure. | |
| | | Monitoring Elasticsearch cluster and node, templates for Tripp Lite Cooling Equipment, Sentry, Docker, ALE OmniSwitch and more. Grab these add-ons and share yours at Zabbix Share. | |
| | | CFP for Zabbix Summit 2018 is in full swing! Why join? It's a great place to learn about Zabbix, DevOps and monitoring! | |
| | | Zabbix Conference Latin America starts already this Friday! 2 days of topics revolving around Zabbix in Porto Alegre, Brazil. | |
GARTNER INSIGHTS: ZABBIX VS ZENOSS
| | | | |
| --- | --- | --- | --- |
| | | Check out a professional IT Infrastructure Monitoring Tools analysis by Gartner, comparing Zabbix capabilities with the top competitors. | |
Red Hat Summit (May 8-10)

Our next stop will be in San Francisco, CA. We'll come for Red Hat Summit 2018 to add more red and open source to this grand event! See you at the booth #537!

AIOps Summit China (May 16)

Zabbix will share the AIOps strategic plan in open source ecosystem at AIOps Summit in Beijing, organized by our Partners, LinkedSee.

Open Source Day (May 23)

Alexei Vladishev, Zabbix CEO, will run a 2-hour workshop on the upcoming Zabbix 4.0 at Open Source Day in Warsaw, organized by our Partners, Linux Polska.

Bratislava Meetup (May 31)

Traditionally, Zabbix will join our Partner S&T Slovakia, to discuss monitoring of availability and performance of the corporate IT infrastructure.

CEBIT (June 11-15)

Experience innovation and digitization with Zabbix at CEBIT this June!

Shanghai Grandage has become an exclusive Zabbix Distributor in the China market.

Alexei Vladishev, Zabbix CEO: "This is a large step forward for both companies, as this kind of agreement is considered to be one-of-a-kind for a region, opening up new business opportunities for Grandage and new partnership level for Zabbix. The current cooperation will conduce to reaching new heights for Zabbix in the China market".




ZABBIX TRAINING
Zabbix Professional Training is a universal opportunity to learn Zabbix in your language and get the best and the latest Zabbix knowledge from the top experts.
When visiting our Training Schedule, just click "By Regions" and get Zabbix Certified all around the globe – USA, Australia, China, Brazil, Europe + more.
✔

Melbourne, Australia

May 7-11

Language: English

✔

Beijing, China

May 14-18

Language: English

✔

Riga, Latvia

May 14-18

Language: English

✔

Orlando, FL, USA

May 14-18

Language: English

✔

Munich, Germany

May 14-18

Language: German

✔

Pontevedra, Spain

May 21-25

Language: Spanish

✔

Bologna, Italy

May 21-25

Language: Italian

✔

Fortaleza, Brazil

May 21-25

Language: Portuguese

✔

Nossegem, Belgium

May 28 - 1 June

Language: English

✔

Moscow, Russia

May 28 - 1 June

Language: Russian

In this Issue

Training Schedule

Training Brochure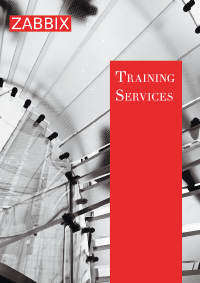 Books on Zabbix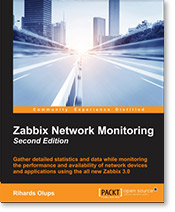 Follow Us