| | | | |
| --- | --- | --- | --- |
| | | Zabbix 4.0.0alpha9 is out with added screen reader attributes, support for monitoring the string values of custom JMX Mbeans, a new HTTP agent item type and more. | |
| | | Download newly-released Zabbix 3.4.12, 3.0.20 and 2.2.23 together with packages and appliance files. | |
| | | With Zabbix Share add-ons, you can monitor Zyxel network traffic, Veeam Agent backups, MikroTik routers, MySQL on a Windows server + more! | |
| | | When you have questions on Zabbix, check out maybe we already discuss them on Zabbix Forum, IRC and Telegram channels. Meet and join Zabbix community! | |
FUN STUFF AT ZABBIX SUMMIT
We're almost at the finish line with only 1 month left to register for the Zabbix Summit 2018 – an all-inclusive event with 2-day agenda, accommodation, meals and fun-stuff events!
It is the only place to meet the Zabbix Team and learn from their expertise! Zabbix tips & tricks, troubleshooting, Zabbix cloud + workshops on event correlation, visualization, integration with services and more, in the Summit agenda.
Zabbix Summit is fun! Halloween Welcome party, games for smart brains, bowling, laser tag, awards and more. Don't miss our 3-day Fun-Stuff Program!
ZABBIX DAY - Goiânia 2018 (August 11)

Zabbix Day is a series of Zabbix meetups in Brazil, organized by our Certified Partner, JLCP. Join us to discuss Zabbix success stories, integration with Grafana and dashboard capabilities!

VMworld US 2018 (August 26-30)

At the end of August, meet us at VMworld US in Las Vegas and learn about VMware performance monitoring at the Zabbix booth!

DevOpsDays Riga (September 27-28)

Devopsdays is a worldwide series of technical conferences. Zabbix will join the event in its hometown, Riga, to exchange its DevOps experience with the top professionals.

Nubiral, the first Certified Partner in Argentina
is engaged in supporting the DevOps culture and the digital transformation through innovative processes and tools.

GRYTEC, Zabbix Reseller from Spain
the scope of their services includes IT outsourcing, technical support, IT environment troubleshooting, developing network security guidelines, and more.

Zen Networks, the first Zabbix Reseller in Morocco
specializes in integrating and creating supervision, automation and DevOps solutions for mobile operators around the world.









ZABBIX TRAINING
Zabbix Professional Training is a universal opportunity to learn Zabbix in your language and get the best and the latest Zabbix knowledge from the top experts.
Courses in Argentina, UK and Italy have been added to our Training Schedule. Choose your region and get Zabbix certified!
✔

Beijing, China

August 6-10

Language: English

✔

Rostov-on-Don, Russia

August 13-17

Language: Russian

✔

Riga, Latvia

August 13-17

Language: English

✔

Buenos Aires, Argentina

August 20-24

Language: Spanish

✔

Belo Horizonte, MG, Brazil

August 27-31

Language: Portuguese

✔

Tallinn, Estonia

August 27-31

Language: English

✔

Alkmaar, Netherlands

September 10-14

Language: English

✔

Bologna, Italy

September 10-14

Language: Italian

✔

Keele, UK

September 10-14

Language: English

✔

Nossegem, Belgium

September 17-21

Language: English

✔

São Paulo, Brazil

September 24-28

Language: Portuguese

✔

Bielefeld, Germany

September 24-28

Language: German

In this Issue

Training Schedule

Training Brochure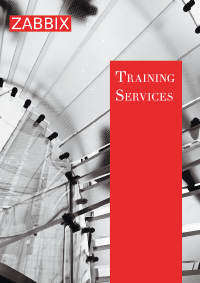 Books on Zabbix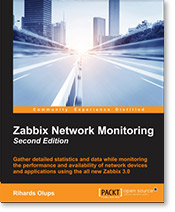 Follow Us