ONE STEP CLOSER TO ZABBIX 4.0
| | | | |
| --- | --- | --- | --- |
| | | Zabbix 4.0.0alpha9 offers significant Zabbix server performance improvements by replacing semaphores to pthread mutexes and read-write locks, new redesigned time selector, ability to change existing problem severity and more. | |
| | | Additional language support: Zabbix 4.0 documentation will be available in Chinese. | |
| | | Download latest Zabbix 3.4.12, 3.0.20 and 2.2.23 releases together with packages and appliance files. | |
ZABBIX SUMMIT 2018
Hurry up! Less than 1 month left to register for the Zabbix Summit 2018 – the largest and the most important Zabbix event of the year! Make sure to Note the deadlines to join!
Get inspired by the Summit agenda to have a better understanding of topics discussed: Zabbix cloud, UI improvements, machine learning and IoT, apps and container monitoring, as well as lots of other issues covered.
Read the first interview with one of our honored speakers, Lukas Macura, sharing his experience in securing and monitoring blockchain systems with Zabbix. More interviews coming and published soon on Zabbix blog.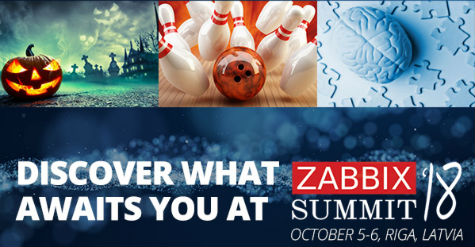 VMworld US 2018 (August 26-30)

At the end of August, meet us at VMworld US in Las Vegas and learn about VMware performance monitoring at the Zabbix booth!

DevOpsDays Riga (September 27-28)

Devopsdays is a worldwide series of technical conferences. Zabbix will join the event in its hometown, Riga, to exchange its DevOps experience with the top professionals.

ZABBIX TRAINING
Zabbix Professional Training is the fastest way to master Zabbix and have the insight into its main tips and tricks with the help of Zabbix top experts.
Check out our Training Schedule. Choose your preferable time, language and location for becoming Zabbix Certified Specialist and Zabbix Certified Professional yourself!
✔

Buenos Aires, Argentina

August 20-24

Language: Spanish

✔

Belo Horizonte, MG, Brazil

August 27-31

Language: Portuguese

✔

Tallinn, Estonia

August 27-31

Language: English

✔

Alkmaar, Netherlands

September 10-14

Language: English

✔

Bologna, Italy

September 10-14

Language: Italian

✔

Nossegem, Belgium

September 17-21

Language: English

✔

São Paulo, Brazil

September 24-28

Language: Portuguese

✔

Saint Petersburg, Russia

September 24-28

Language: Russian

✔

Bielefeld, Germany

September 24-28

Language: German

✔

Turin, Italy

October 8-10

Language: Italian

✔

Paris, France

October 8-12

Language: French

✔

Riga, Latvia

October 8-12

Language: English

In this Issue

Training Schedule

Training Brochure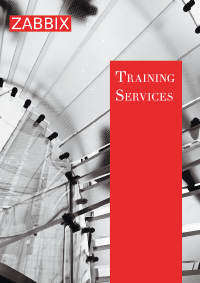 Books on Zabbix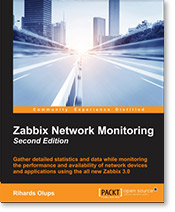 Follow Us