| | | | |
| --- | --- | --- | --- |
| | | We are happy to announce the release of Zabbix 4.0.0beta1 presenting new features such as implemented SVG graph widget, HTTP authentication support and noticeable frontend improvements. | |
| | | Download recently-added Zabbix 3.4.13, 3.0.21 and 2.2.23 releases together with packages and appliance files. | |
| | | Zabbix as a Red Hat Technology Partner, has joined a Zabbix-dedicated podcast to discuss what is needed to keep your IT infrastructure under control, the passion for Open Source and the power of the Zabbix community. | |
PACK YOUR BAGS FOR ZABBIX SUMMIT!
Lose no time! Only 10 days left to register for Zabbix Summit 2018 – the main global Zabbix event of the year.
We hope you marked your calendars for the key dates and deadlines, and you're in full readiness!
We have started a series of blog post interviews, in which our speakers give a sneak peek into their upcoming talks. This time, welcome Wolfgang Alper, a true Zabbix expert, talking about Zabbix power in the field of IoT. Stay tuned for further updates!
Check out the Summit agenda to get rid of doubts regarding your participation and get involved in a great variety of events held by the Zabbix Team and experience-sharing sessions from our guest speakers.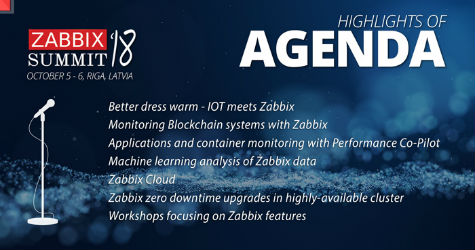 | | | |
| --- | --- | --- |
| | | Welcome the Gold Sponsor of Zabbix Summit 2018 - Tieto Czech, one of the largest IT service providers in Europe. |
Zabbix Share is a mix of Zabbix add-ons, templates and modules created by our community. Experiment with your Zabbix!

New templates for download and further use available: check Nextcloud stability, feel the power of real-time by monitoring VizEngine & control Ubiquiti Network devices.
DevOpsDays Riga (September 27-28)

Devopsdays is a worldwide series of technical conferences. Zabbix will join the event in its hometown, Riga, to exchange its DevOps experience with the top professionals.

ARE YOU ZABBIX CERTIFIED?
Zabbix Training is the fastest way to achieve an advanced knowledge of Zabbix shared by the best Zabbix trainers all around the globe.
Check out our Training Schedule. There are 2 courses available "Zabbix Certified Specialist" and "Zabbix Certified Professional", both being followed with an exam and a certificate, proving your Zabbix expertise.
✔

Alkmaar, Netherlands

September 10-14

Language: English

✔

Bologna, Italy

September 10-14

Language: Italian

✔

Nossegem, Belgium

September 17-21

Language: English

✔

São Paulo, Brazil

September 24-28

Language: Portuguese

✔

Saint Petersburg, Russia

September 24-28

Language: Russian

✔

Bielefeld, Germany

September 24-28

Language: German

✔

Turin, Italy

October 8-10

Language: Italian

✔

Paris, France

October 8-12

Language: French

✔

Riga, Latvia

October 8-12

Language: English

✔

Nossegem, Belgium

October 15-19

Language: English

✔

Florianopolis, SC, Brazil

October 22-26

Language: Portuguese

✔

Rome, Italy

October 22-26

Language: Italian

In this Issue

Training Schedule

Training Brochure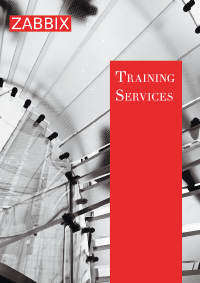 Books on Zabbix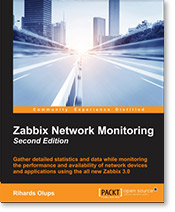 Follow Us