| | | | |
| --- | --- | --- | --- |
| | | 4.0.0alpha4 is released. Note that this is not yet a full representation of the final release, as the best is yet to come! | |
| | | Zabbix 3.4.7 and 3.0.15 are released. Download together with packages (RPM, DEB) and ready to use appliance files. | |
| | | | |
| --- | --- | --- | --- |
| | | Zabbix is becoming more accessible to users worldwide, and today Zabbix front-end is translated into 15+ languages. You can always contribute and join our translators - add your language or assist with the existing ones. | |
| | | If you're new to Zabbix, know that monitoring deployment can be a breeze with Zabbix Share. Add checks for hardware, VMware, SMTP, peripherals and more, by templates and modules added every day. | |
| | | Tomorrow we'll be at Riga Technical University Career Day, looking for new talents to become Zabbix Team members. Check out our career opportunities! | |
ZABBIX SUMMIT REGISTRATION OPEN
Timer has been set! Registration for Zabbix Summit 2018 is now officially OPEN!
We'll meet you on October 5-6. Get ready to experience technical and business monitoring cases from the IT specialists, representing 40+ countries, join workshops, socialize and have fun!
CFP is open, so craft your topics and take the stage of #ZabbixSummit18!
Welcome Zabbix Summit Gold Sponsor!
| | | |
| --- | --- | --- |
| | | Quadrata is Zabbix Premium Partner and Certified Trainer, with over 15 years of experience in reliable and cost-effective solutions to satisfy every customer need. |
SCALE 16x (March 9-11)

Are you attending SCALE16x in Pasadena, CA this March? Then come to visit Zabbix booth #705 & chat with the real-time monitoring experts!

1° ZABBIX DAY - Baixada Santista (March 10)

Monitoring SAP, SQL Server and more to discuss at Zabbix Day - another series of Zabbix meetups in Brazil. This event is organized by our new Certified Partner, JLCP.

ZabConf LatAm 2018 (April 26-28)

Just 2 months left till Zabbix Conference LatAm in Porto Alegre, Brazil! Join, learn Zabbix and meet local experts, community members and Zabbix CEO, Alexei Vladishev.
JLCP, Zabbix Certified Partner from Brazil -
an IT training company established in Brazil, offering consulting, implementation and customized services based on the Zabbix solution to different business segments. JLCP has already actively started the Zabbix meetups campaign in Brazil, called Zabbix Day.




Our extensive partner network helps us provide worldwide support to the companies using Zabbix.

Become a Zabbix partner in your country! Explore the partnership benefits.
ZABBIX TRAINING
Zabbix Professional Training is a universal opportunity to learn Zabbix in your language and get the best and the latest Zabbix knowledge from the top experts.
When visiting our Training Schedule, just click "By Regions" and get Zabbix Certified all around the globe – USA, Australia, China, Brazil, Europe + more.
✔

Porto Alegre, Brazil

March 5-9

Language: Portuguese

✔

Milan, Italy

March 12-16

Language: Italian

✔

Harpenden, UK

March 19-23

Language: English

✔

Heiloo, Netherlands

March 19-23

Language: English

✔

Munich, Germany

March 19-23

Language: German

✔

Prague, Czech Republic

April 9-13

Language: English

✔

Paris, France

April 9-13

Language: French

✔

Beijing, China

April 16-20

Language: English

✔

Melbourne, Australia

May 7-11

Language: English

✔

Orlando, FL, USA

May 14-18

Language: English

In this Issue

Training Schedule

Training Brochure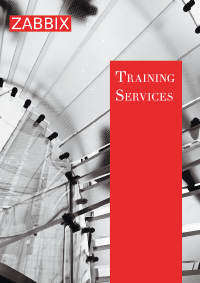 Books on Zabbix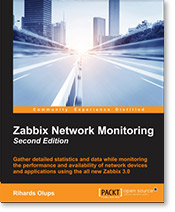 Follow Us