| | | | |
| --- | --- | --- | --- |
| | | Download Zabbix 3.4.6 and enjoy support for Elasticsearch as history storage. | |
| | | 4.0.0alpha2 is available for testing! Note that it is not yet feature complete, the best is yet to come! | |
Extend your Zabbix with templates and modules created by our community! Monitor SLA with Zabbix NGINX, collect MS SQL Server statistics, monitor Axia Livewire drivers, Jira, Xerox machines, Cisco and PostgreSQL + much more at Zabbix Share.

We keep Zabbix users up to date daily. Become one of the 20,000+ Zabbix fans on social channels and be the first to receive all the news!

How to safely migrate to the next version, when you have a large and complex environment? In this video, Xavier Schneider shares his experience with Zabbix & Galera Cluster in NATIXIS - one of the biggest banks in France.

SCALE 16x (March 8-11)

Challenge Zabbix Team with your questions at this community-driven event in Pasadena, CA on March 8-11!

Red Hat Summit (May 8-10)

This May let's talk about the true power of Open Source at Red Hat Summit, together with Zabbix!

CEBIT (June 11-15)

We're proud to be part of this event for the 3rd time in a row, demonstrating Zabbix capabilities in cloud, VMs and database monitoring. Meet us in Hanover in June!
Sedam IT, Zabbix Reseller from Croatia:
"We consider Zabbix to be a powerful, scalable and adjustable all-in-one tool for network management"

ATS Group, Zabbix Reseller from the USA:
"By partnering with Zabbix, we can provide a powerful and flexible monitoring and alerting solution that we can fine-tune to meet the needs of each individual customer"








Our extensive partner network helps us provide worldwide support to the companies using Zabbix.

Become a Zabbix partner in your country! Explore the partnership benefits.
ZABBIX TRAINING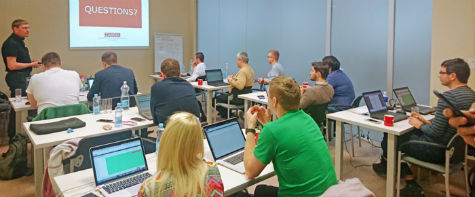 Zabbix Professional Training is designed to teach you the art of Zabbix automation by learning and practicing Zabbix in different tricky scenarios.
#GetZabbixCertified all around the globe – China, USA, Brazil, Europe or any place you'd like us to come:
✔

Riga, Latvia

January 15-19

Language: English

✔

Brasilia, Brazil

January 22-26

Language: Portuguese

✔

Shanghai, China

January 22-26

Language: English

✔

Buffalo, NY, USA

Jan 29 - Feb 2

Language: English

✔

Paris, France

February 5-9

Language: French

✔

Bielefeld, Germany

February 5-9

Language: German

✔

Turin, Italy

February 5-7

Language: Italian

✔

Detroit, MI, USA

February 19-23

Language: English

In this Issue

Training Schedule

Training Brochure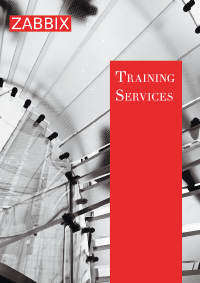 Books on Zabbix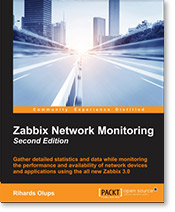 Follow Us