| | | | |
| --- | --- | --- | --- |
| | | Don't miss a series of Webinars in February and discover the best practices on Zabbix. Tune your Zabbix in 5 min, detect problems in advance, experiment with Zabbix API & more in English, Russian, German and Italian. | |
| | | How to quickly keep an eye on FreeBSD CPU temps, enable monitoring for Konica, Emerson, Panasonic + much more devices? With the latest templates & modules found on Zabbix Share. | |
| | | Watch the video, in which Andrea and Enrico from YOOX NET-A-PORTER explain in true Italian style how to monitor e-commerce business with Zabbix hosted on AWS. | |
"Zabbix Network Monitoring, 2nd edition", written by our great community member Rihards Olups, is now available also in Korean.

Master Zabbix in many languages - choose any book from our collection.
ZABBIX SUMMIT

This year we're happy to present you the Zabbix Summit 2018 – the premier Zabbix event exclusively about monitoring!
With the success of its ancestor called the Zabbix Conference, this October, we'll meet in Riga for the next step in our events evolution - #ZabbixSummit18. Start drafting your topics, as CFP is now officially open! Tickets will be available soon.
ZABBIX CONFERENCE LATAM
The 2nd edition of the biggest event in Latin America, Zabbix Conference LatAm 2018, is coming to Porto Alegre, Brazil on April 26-28.
Come talk to experts from various places, set out your ideas, learn, have fun and evolve together with the Zabbix community. Register now!
Note that conference speeches will be delivered mostly in Portuguese and Spanish. CFP is open!

| | |
| --- | --- |
| A data protection solutions integrator, DataAssure, marks itself as the first Zabbix Reseller in Hong Kong, having the vision and passion to extend the reach of Zabbix customers in this area. | |
Our extensive partner network helps us provide worldwide support to the companies using Zabbix.

Become a Zabbix partner in your country! Explore the partnership benefits.
ZABBIX TRAINING
Here's the fastest way to learn Zabbix – join Zabbix Professional Training in all parts of the world. Master the latest features and add-ons, practice Zabbix in different scenarios and ask questions to our Zabbix professional trainers.
#GetZabbixCertified all around the globe:
✔

Paris, France

February 5-9

Language: French

✔

Bielefeld, Germany

February 5-9

Language: German

✔

Turin, Italy

February 5-7

Language: Italian

✔

Riga, Latvia

February 12-16

Language: English

✔

Detroit, MI, USA

February 19-23

Language: English

✔

Moscow, Russia

Feb 26 - Mar 2

Language: Russian

✔

Porto Alegre, Brazil

March 5-9

Language: Portuguese

In this Issue

Training Schedule

Training Brochure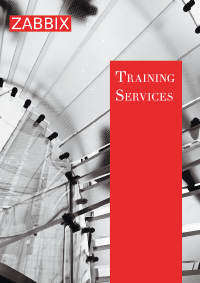 Books on Zabbix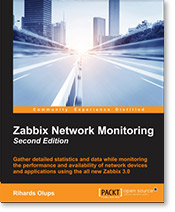 Follow Us