| | | | |
| --- | --- | --- | --- |
| | | Download Zabbix latest releases. 4.0.0alpha8 comes with flexible active agent auto-registration and keyboard interaction, while in 3.4.11 Norwegian translation was introduced. | |
| | | Zabbix is ranked as #1 Server Monitoring tool. Reviews are available on IT Central Station. | |
| | | Discover how to monitor all kinds of IT infrastructure with Zabbix, being part of aerospace, banking, finance, retail, mass production and other industries. | |
| | | Extensive Zabbix documentation and manuals are always at your disposal. Available in multiple languages. | |
SUMMIT HANGOUTS WITH ZABBIX TEAM
Throughout the 2 days of the Zabbix Summit 2018, Zabbix Team will share their expertise in different Zabbix fields.
What's New in Zabbix 4.0
Zabbix Tips & Tricks
Getting the most out of Zabbix UI
Zabbix Cloud
Workshops focusing on Zabbix features
An opportunity to get Zabbix certified in 1 hour
Evolution of Zabbix by Alexei Vladishev, Zabbix CEO
New ways to become Zabbix expert
CFP ends on July 20. Hurry up to submit your speech! You can also cover your topic in a 5-minute Lightning Talk!
| | | |
| --- | --- | --- |
| | | Welcome our Silver Sponsor - Infocom, an IT solutions provider and Zabbix Premium Partner from Japan. |
ZABBIX DAY - Goiânia 2018 (August 11)

Zabbix Day is a series of Zabbix meetups in Brazil, organized by our Certified Partner, JLCP. Join us to discuss Zabbix success stories, integration with Grafana and dashboard capabilities!

VMworld US 2018 (August 26-30)

In August, meet us at VMworld US in Las Vegas and learn about VMware performance monitoring at the Zabbix booth!
Aplitt sp. z o.o., Certified Partner from Poland
having been monitoring its infrastructure with Zabbix for several years, Aplitt now delivers Zabbix for their business clients.

Sielte S.p.A, Certified Partner from Italy
thanks to the vast spectrum of Zabbix functionality and experience of the Zabbix Support Engineers, Sielte is able to offer Zabbix solution to the customers.






ZABBIX TRAINING
The best way to become a Zabbix Guru is to meet with the Zabbix Gurus. Zabbix Certified Trainers will teach you the art of Zabbix automation, using latest features and add-ons in common as well as thorny cases.
Join Zabbix Professional Training courses all around the globe!
✔

Munich, Germany

July 16-20

Language: German

✔

Porto Alegre, Brazil

July 16-20

Language: Portuguese

✔

Montreal, Canada

July 23-27

Language: English

✔

Bielefeld, Germany

July 30 - August 3

Language: German

✔

Beijing, China

August 6-10

Language: English

✔

Rostov-on-Don, Russia

August 13-17

Language: Russian

✔

Riga, Latvia

August 13-17

Language: English

✔

Tallinn, Estonia

August 27-31

Language: English

✔

Belo Horizonte, MG, Brazil

August 27-31

Language: Portuguese

In this Issue

Training Schedule

Training Brochure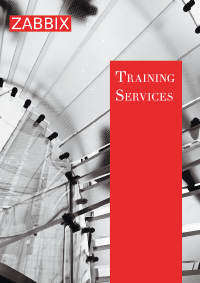 Books on Zabbix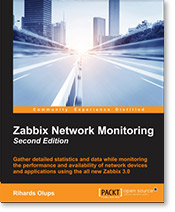 Follow Us