| | | | |
| --- | --- | --- | --- |
| | | Zabbix 4.0 is on its way! Zabbix 4.0.0alpha8 is out with: | |


more flexible active agent auto-registration
new time range selector for graphs
real-time export of history & events in JSON format
+ extensive number of other features and improvements!
| | | | |
| --- | --- | --- | --- |
| | | Download newly-released Zabbix 3.4.11 and 3.0.19 together with packages and appliance files. | |
| | | Zabbix is multilingual! Norwegian translation is available for Zabbix frontend starting from version 3.4.11. | |
| | | Discover Redis instances, monitor MariaDB partitions, install Zabbix Agent on Windows Server with Ansible and more. Grab these add-ons and share yours at Zabbix Share. | |
| | | Thanks to Badoo, we had a great time at Zabbix Moscow Meetup – Zabbix troubleshooting, events in Elasticsearch, Grafana plugin and more. Presentations will be available soon on Slide Share (in Russian). | |
ZABBIX SUMMIT SNEAK PEEK OF AGENDA
Zabbix Summit 2018 is the biggest Zabbix event about monitoring, and we're happy to announce that the first batch of talks are already published!
Explore the preliminary agenda:
Applications and container monitoring with Performance Co-Pilot
Monitoring Blockchain systems with Zabbix
Machine learning analysis of Zabbix data
Monitoring Red Hat's Rocket Chat instance
Case studies – Zabbix at Intersvyaz, Zabbix at China Merchants Bank
Zabbix long-term vision for the future, Zabbix Cloud & more
Visualize it! Getting the most out of Zabbix UI
Hurry up and craft your talk proposals to be part of this year's agenda!

The Zabbix Summit ticket is all-inclusive, involving 2-day agenda, accommodation, meals and parties. Register!
ZABBIX TRAINING
Here's the fastest way to master Zabbix – learn it on the spot and with the top experts. Master the latest features and add-ons, install, configure and practice Zabbix.
Visit our Training Schedule and get Zabbix Certified in the USA, Canada, China, Brazil, Europe + more.
✔

Paris, France

July 2-6

Language: French

✔

Guangzhou, China

July 16-20

Language: English

✔

Munich, Germany

July 16-20

Language: German

✔

Porto Alegre, Brazil

July 16-20

Language: Portuguese

✔

Montreal, Canada

July 23-27

Language: English

✔

Bielefeld, Germany

July 30 - August 3

Language: German

✔

Beijing, China

August 6-10

Language: English

✔

Rostov-on-Don, Russia

August 13-17

Language: Russian

✔

Belo Horizonte, MG, Brazil

August 27-31

Language: Portuguese

✔

Tallinn, Estonia

August 27-31

Language: English

In this Issue

Training Schedule

Training Brochure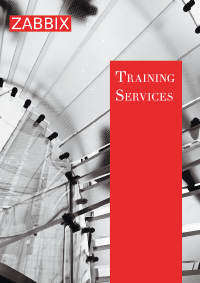 Books on Zabbix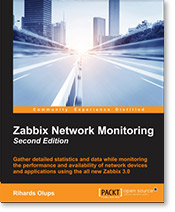 Follow Us