| | | | |
| --- | --- | --- | --- |
| | | Exploring upcoming Zabbix 4.0! Enjoy Zabbix 4.0.0alpha7 together with: | |
Compression of server-proxy data exchange
Condensed problem view
History data storage in date based indices of Elasticsearch
+ extensive number of other features and improvements!
| | | | |
| --- | --- | --- | --- |
| | | Download newly-released Zabbix 3.4.10, 3.0.18 and 2.2.22. | |
| | | Manage your monitoring tasks with ease! Find the answers you need in our Zabbix documentation. | |
| | | Zabbix Blog has recently got a fresh look, introducing mobile compatibility and navigation by categories. | |
| | | When you need to get things done fast & accurate, save your resources by relying on Zabbix Support Team for integration, upgrade, consultancy and development services. | |
| | | Stay tuned with Zabbix community! Join discussions on Zabbix Forum, Telegram channels and social nets. | |
BECOME EXPERT AT ZABBIX SUMMIT
Challenge yourself at the Zabbix Summit 2018 this October! Join us for 2-day agenda, workshops, certification and diversified fun-stuff program.
Get Certified
Prove your Zabbix skills by passing an Exam! On Day 2, all registered attendees will have a chance to get Zabbix certified within just 1 hour. Pre-registration is obligatory.

Speak Out
We're on the lookout for great ideas at #ZabbixSummit18! Tell us about Zabbix in IoT, cloud, containers, DevOps and other use cases. Show us how you integrate Zabbix with services. Check the guidelines and submit your topics!

Exhibit
Get an opportunity to present your company, increase your exposure and build a strong business network! Explore sponsorship options.

CEBIT NEXT WEEK!
CEBIT 2018 takes place already next week in Hanover!
Demos, prizes and useful Zabbix tips from our experts and partners will await you at the Stand B79, Hall 12 from June 12 through June 15! We speak English, German, Dutch, Italian and Spanish.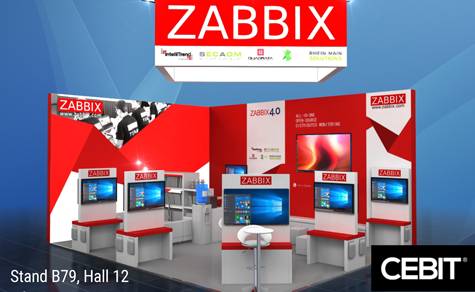 ZABBIX TRAINING
Join Zabbix Professional Training in all parts of the world to get a full insight into Zabbix and learn how to monitor your IT infrastructure efficiently.
There are 2 courses available "Zabbix Certified Specialist" and "Zabbix Certified Professional", both involving an exam and a certificate, proving your Zabbix expertise.
✔

Nossegem, Belgium

June 25-29

Language: English

✔

Raymondville, TX, USA

June 25-29

Language: English

✔

Paris, France

July 2-6

Language: French

✔

Guangzhou, China

July 16-20

Language: English

✔

Munich, Germany

July 16-20

Language: German

✔

Porto Alegre, Brazil

July 16-20

Language: Portuguese

✔

Beijing, China

August 6-10

Language: English

✔

Rostov-on-Don, Russia

August 13-17

Language: Russian

✔

Belo Horizonte, MG, Brazil

August 27-31

Language: Portuguese

In this Issue

Training Schedule

Training Brochure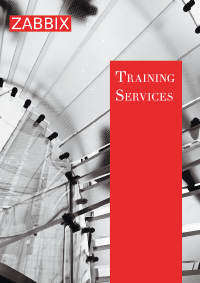 Books on Zabbix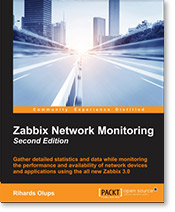 Follow Us