| | | | |
| --- | --- | --- | --- |
| | | Zabbix 4.0 has been released! Noticeable performance boost, more data visualization capabilities, new and updated agent items and much more. Learn what's new in Zabbix 4.0 and explore its potential. | |
| | | New Zabbix agents for 4.0 are out with the support of encryprion! Download and install pre-compiled Zabbix agents for Windows, CentOS, Debian, Ubuntu, FreeBSD, OpenBSD, openSUSE. | |
JOIN FREE ZABBIX WEBINARS
We meet your need for knowledge and have prepared all answers to the questions you may have. Join free Zabbix webinars and learn yourself what's new in Zabbix 4.0.
Explore the webinar schedule and apply for the webinars in Russian, English, Chinese, Portuguese, Dutch, German, Spanish or Italian.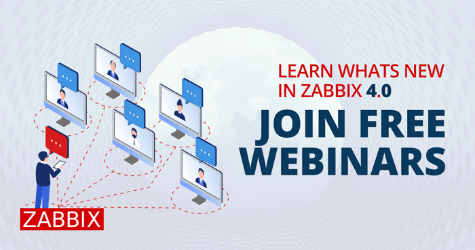 ZABBIX SUMMIT 18 – HOW IT WAS
Zabbix Summit'18 is over, but we are still getting positive emotions from you! Thank you all! 350 attendess, 26 speakers, 2 days of workshops, monitoring challenges and valuable chats with the Zabbix community – this was all about the Zabbix Summit! We have summarized this all in a short blog post.
Even if you couldn't come for some reason, you are welcome to watch the videos – all summit speeches will be available online soon! Meanwhile feel free to view the presentation slides
And now let's watch a Summit Overview – the moments we are happy to experience once again: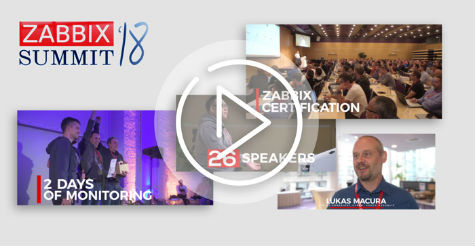 ZABBIX ALL AROUND THE GLOBE
All Things Open 2018 (Oct 21 - 23)

All Things Open is an international conference with Open Source as a key topic, covering open tech and open web in the enterprise. Zabbix Team will be sharing the open-source and monitoring passion during the whole event, come and meet us!

HighLoad 2018 (Nov 8 - 9)

HighLoad is the biggest professional conference for highload system developers. Zabbix for sure will stand for monitoring, showing the usability and new opportunities available in Zabbix 4.0.

Zabbix Conference Japan 2018 (Nov 16)

This November, Zabbix Conference Japan will take place in Tokyo!

Multiple presentations, including a keynote speech of Alexei Vladishev, as well as various case studies on Zabbix use in different industries, how-to talks and Zabbix integration possibilities with different services.

Zabbix Conference China 2018 (Nov 23 - 24)

This November, the 2nd Zabbix Conference China will take place in Shanghai.

Speakers from Latvia will give a deeper insight into Zabbix 4.0 features, while Zabbix Chinese community members will share their own monitoring experience, by introducing real use cases.

Zabbix Conference Benelux 2019 (1 - 2 Feb)

The first Zabbix Conference Benelux will be mostly dedicated to the new Zabbix release. Since version 4.0 has appeared on the market, many new features should be discovered and will certainly be discussed and explained during the Conference. .

HOW TO BE ZABBIX 4.0 CERTIFIED?
With the release of Zabbix 4.0, Zabbix has introduced 4 types of training courses. Now there is a special training course for beginners with no specific background requirements – Zabbix Certified User. As well, more advanced level is also added – Zabbix Certified Expert, which comes after the Zabbix Certified Professional title.
Learn more about available training courses and requirements for each level.
Check out our Training Schedule and apply for a course near you:
✔

Florianopolis, SC, Brazil

October 22-26

Language: Portuguese

✔

Nossegem, Belgium

November 5-9

Language: English

✔

Munich, Germany

November 5-9

Language: German

✔

Chandler, AZ, USA

November 5-9

Language: English

✔

Bielefeld, Germany

November 12-16

Language: German

✔

Shanghai, China

November 12-16

Language: English

✔

Prague, Czech Republic

November 12-16

Language: English

✔

Bologna, Italy

November 12-16

Language: Italian

✔

Turin, Italy

November 19-21

Language: Italian

✔

Porto Alegre, Brazil

November 19-23

Language: Portuguese

✔

Bogota, Colombia

November 19-23

Language: Spanish

✔

Catania, Italy

November 26-30

Language: Italian

In this Issue

Training Schedule

Training Brochure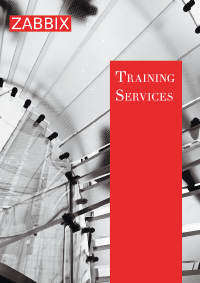 Books on Zabbix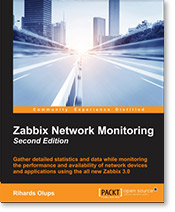 Join Community

Follow Us