| | | | |
| --- | --- | --- | --- |
| | | One step closer to 4.0! Welcome Zabbix 4.0.0rc1 offering kiosk mode for all pages, new filter options for triggers by tags and long-awaited new graph widget with multiple new fields making data visualization a breeze! | |
| | | Download Zabbix 3.4.14 with enabled Portuguese translation, 3.0.22 and 2.2.23 together with packages and appliance files. | |
| | | We are proud to announce official packages for Raspberry Pi (Raspbian OS) available for forthcoming 4.0 at Zabbix Official Repository. | |
ZABBIX SUMMIT 2018
Zabbix Summit 2018 is fully booked! Get ready and explore the outlined agenda with 2 days of case studies, know-hows, workshops, lightning talks, Zabbix 4.0 exam + much more.
We are happy to introduce one more Zabbix Summit speaker, Shawn Cai, a DevOps Team Manager of China Merchants Bank, sharing his valuable experience in full-stack monitoring in DevOps environment via Zabbix. Check out Zabbix blog for other pre-summit interviews.
Huge thanks for the support goes to our honored sponsors - Quadrata, NTT Com Solutions Corporation, Kyuden Business Solutions, Unirede, Tieto, Infocom and Opencource ICT Solutions.
See you in Riga on October 5-6!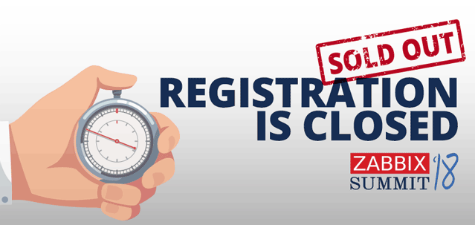 DevOpsDays Riga (September 27-28)

Devopsdays is a worldwide series of technical conferences. Zabbix will join the event in its hometown, Riga, to exchange its DevOps experience with the top professionals.

Gitex 2018 (14 - 18 Oct, 2018)

Gitex is the third largest technology event in the world, welcoming over 146 000 professionals from 144 countries.

Visit Zabbix stand to take part in Zabbix future plans, watch live demos and ask us your questions!
Get what you need to extend your Zabbix on Zabbix Share. Use Net Arista Template to ensure your large data center storage and computing environments are properly monitored.

Check out templates for Huawei network devices that help advanced gigabit switch up and running. Plus more templates and modules added daily.

ARE YOU ZABBIX CERTIFIED?
Don't miss your chance to gain valuable Zabbix knowledge from our specialists and grow professionally.
Check out our Training Schedule and apply for a course near you:
✔

São Paulo, Brazil

September 24-28

Language: Portuguese

✔

Saint Petersburg, Russia

September 24-28

Language: Russian

✔

Bielefeld, Germany

September 24-28

Language: German

✔

Turin, Italy

October 8-10

Language: Italian

✔

Paris, France

October 8-12

Language: French

✔

Riga, Latvia

October 8-12

Language: English

✔

Nossegem, Belgium

October 15-19

Language: English

✔

Florianopolis, SC, Brazil

October 22-26

Language: Portuguese

✔

Rome, Italy

October 22-26

Language: Italian

✔

Nossegem, Belgium

November 5-9

Language: English

✔

Munich, Germany

November 5-9

Language: German

✔

Chandler, AZ, USA

November 5-9

Language: English

✔

Bielefeld, Germany

November 12-14

Language: German

✔

Shanghai, China

November 12-14

Language: English

✔

Prague, Czech Republic

November 12-14

Language: English

In this Issue

Training Schedule

Training Brochure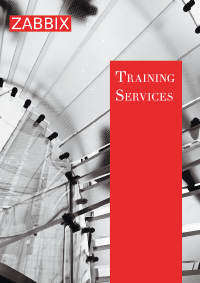 Books on Zabbix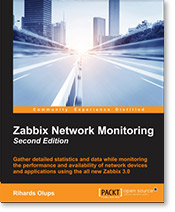 Follow Us