What's New in Zabbix 4.2?

Here is a list of the most important functionality included into the new release: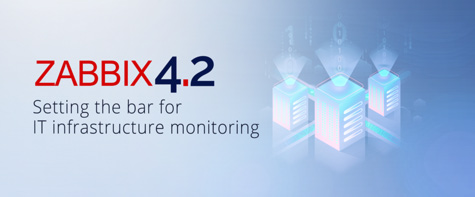 In addition to existing official packages and appliances, Zabbix 4.2 now also caters to the following platforms: RaspberryPi, SUSE Enterprise Linux Server, Mac OS/X, MSI for Windows, Docker.
Now we offer an integration with the exporters using native support of PromQL language. Moreover, the use of dependent metrics gives us the ability to collect massive amounts of Prometheus metrics in a highly efficient way: we get all the data using a single HTTP call and then just reuse it for corresponding dependent metrics. Zabbix can also transform Prometheus data into JSON format, which can be used directly for low-level discovery.
Quite often, high-frequency monitoring is overloading the monitoring system. We can avoid that with throttling for preprocessing, as it allows us to skip recurrent values. Now we can collect data with high frequency, instantly discover problems without keeping excessive amount of history data in the Zabbix database. Thanks to throttling with heartbeat we can have nice graphs as well.
No one wants to collect incorrect data. With Zabbix 4.2 we can address that via built-in preprocessing rules that validate data by matching or not matching regular expression, using JSONPath or XMLPath. Now it is also possible to extract error messages from collected data. This can be especially handy if we get an error from external APIs.
In Zabbix 4.2 you can fully harness the power of user-defined scripts written in JavaScript. Support of JavaScript gives absolute freedom of data preprocessing! In fact, you can now replace all external scripts with JavaScript. This enables all sorts of data transformation, aggregation, filtering, arithmetical and logical operations and much more.
Prior to 4.2, all preprocessing was handled solely by the Zabbix server. Now we are ready to deliver greater scalability, since all preprocessing functions can also be performed by proxies. A combination of proxy-based preprocessing with throttling gives us the ability to perform high-frequency monitoring collecting millions of values per second without overloading the Zabbix Server.
Zabbix 4.2 supports processing based on arbitrary JSON input, which in turn allows us to communicate directly with external APIs, for example, and use received data for automatic creation of hosts, metrics and triggers. Combined with JavaScript preprocessing it opens up fantastic opportunities for templates, that may work with various external data sources such as cloud APIs, application APIs, data in XML, JSON or any other format.



Visit our What's New page to read more about the new functionality of 4.2.

Read our Release notes to learn about Zabbix 4.2 installation and upgrade.